COPING WITH LOSS: From Heartache to Healing
Losing someone dear to us is part of life. Yet how often when friends, relatives, or coworkers are struggling with someone's passing are we unable to find the words to adequately express our sympathy or provide comfort? That's why we created Coping With Loss: From Heartache to Healing.
Each volume in this three-book set is a nondenominational collection of varying perspectives on the grieving process. Coping With Loss: From Heartache to Healing includes quotes, prayers, stories, and insights from people all over the world who have suffered through a loved one's death or who have come to the aid of someone in mourning.
Click on the links below to view sample pages from each volume included in the set. Inside, you'll see expressions of every emotion from anguish to renewal spanning cultures and centuries. Some will mirror your own perspective; others may challenge your beliefs. But somewhere every reader will come across a special passage that illuminates their personal experience of loss.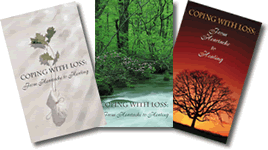 Sample pages (PDF):
Volume 1 | Volume 2 | Volume 3
These books each one between 22 and 26 pages are small enough to include in a sympathy card and readers can keep the collection close at hand (in a pocket or purse) for a quick dose of comfort when needed. And the books don't have to be read cover to cover to glean something useful from them. The material is organized in a way that allows each reader to easily search for a message that seems most appropriate at the time.
Volumes may be purchased individually or as part of a set. For specific pricing information call one of our representatives at 800.878.5331; they will review the options with you or send you a sample copy for further consideration.
We sincerely hope that Coping With Loss: From Heartache to Healing helps you ease the sorrow of a grieving friend or relative, or provides you solace for your own loss.